Monthly Roundup – October 2023
Note: anchor links are not supported by all email clients which might lead to limited functionality.
Japan: Georgeson published the 2023 Japan Season Review in partnership with Japan Shareholder Services (English version)
Highlights in this year's report:
Shareholder activism continues to increase, with more activist investors, including domestic funds, entering the market as Japanese management teams increasingly find themselves at odds with their investors

Corporate Governance Code revisions and the restructuring of Japanese capital markets clearly show Japan's commitment to attracting global investors and aligning with global expectations

Voting against directors is increasing, with 13.6% of director elections facing opposition of 10% or more in 2023

Proxy advisors ISS and Glass Lewis have adopted stricter stances on director elections for companies on board gender diversity or the presence of substantial cross-shareholdings, and increasingly make 'against' recommendations

Remuneration rates and poison pill provisions were less contentious in 2023
The Japanese version of the report is coming soon.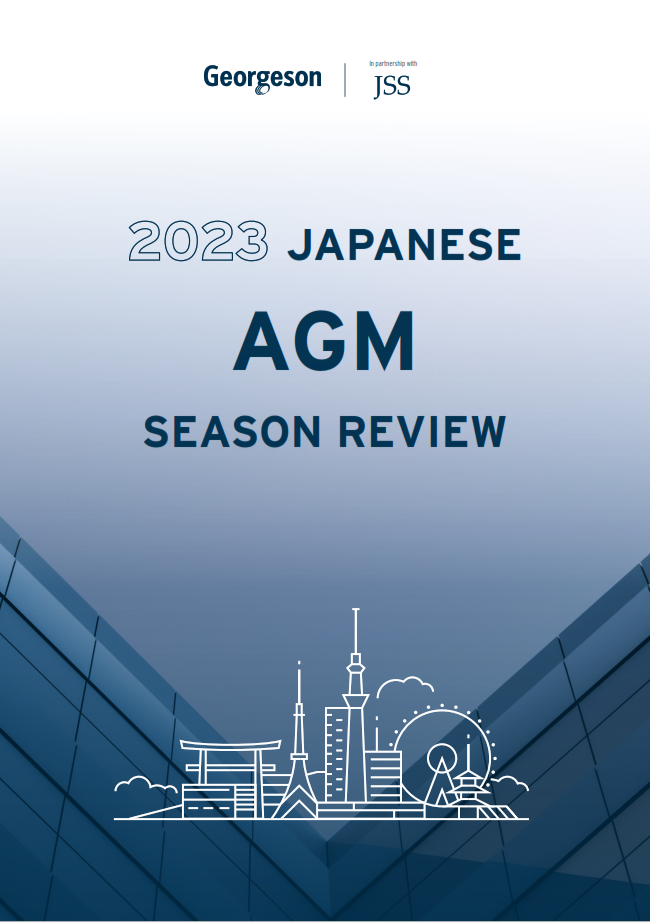 Spain: Georgeson published the 3rd edition of the Executive Director Remuneration Report
Georgeson Spain is pleased to share our 3rd edition of the Observatory on executive directors' remuneration, which aims to provide a practical and up-to-date overview of the remuneration situation of Spanish listed companies, their challenges, as well as the concerns and demands of the most relevant foreign institutional investors in their capital, and of the main proxy advisors, whose voting recommendations have an impact on the shareholders' meetings every year. The report was also covered by
CincoDías
,
EuropaPress
.
Global: Georgeson published a memo on the Nature Action 100 investor initiative
The Georgeson memo covers the following:
Nature Action 100's purpose and next steps

The investor expectations

An overview of the investor participants

A comparison between Nature Action 100 and Climate Action 100+

Key actions for companies to take
UK: Georgeson and Computershare published the 2023 UK AGM Intelligence Report
Highlights in this year's report:
12% fewer issuers opted to supplement their in-person meetings with technology to enable one way engagement e.g. webcasting

10% of FTSE 100 companies returned to in-person meetings, 2% of those offered alternative engagement options

The percentage of name on register shareholders attending AGMs dropped by 12.6% in FTSE 250 companies

AIM 100 clients saw an increase in pre-meeting online voting, but a decrease in the proportion of their issued share capital voted
Japan: Georgeson's Cas Sydorowitz is quoted in Reuters' article titled "Shareholder proposals gain traction in Japan as activism thrives"
"During the 2023 annual general meeting season through June, a total of 81 shareholder proposals were voted on at Japan's top 225 companies, up from 63 in 2022, according to an annual review by proxy solicitor Georgeson […]. Cas Sydorowitz, global CEO of Georgeson, told Reuters in an interview that he expected the Tokyo Stock Exchange's recent push for better capital efficiency to create greater pressure on companies and more opportunities for activists. 'Not only in Japan but more globally, activism is on the rise," he said. "Shareholders are asking for more and more things, whether those are director elections, reviews of the business practices, and so forth.'"
Europe: Georgeson's Daniele Vitale and Hal Dewdney's article "Say on Climate resolutions in Europe during the 2022/2023 AGM Season" features in
Governance Magazine
's September Issue
"The 2023 AGM season marked the third year that companies voluntarily put forth Say on Climate resolutions in Europe. The season (1 July 2022 to 30 June 2023) revealed some notable trends that offer valuable insight into the climate commitments and actions of European companies. For example, 24 companies across Europe presented board-sponsored advisory resolutions relating to their climate disclosures and action plans at their AGMs".
Italy: Georgeson's Domenic Brancati and Lorenzo Casale were interviewed for Milano Finanza's article titled "Not just Mediobanca. Shareholders' complaints against Italian companies are growing at the meeting. Here are the most attacked proposals"
"There has clearly been a reduced incentive for companies to submit these types of proposals. This is because there is a wide variety of opinions and expectations that result in different initiatives from companies. Some investors then question whether Say on Climate votes should be proposed at all,' explains the report, which Georgeson's Head of market Italy Lorenzo Casale comments: 'In the short term, I do not foresee an increase in Say on Climate initiatives by companies at European level. It is an excellent tool that still needs to be registered, however'."
US: Georgeson is hosting a webcast titled "2024 Proxy Season: Strategically Preparing for the Upcoming Season" on 16 November
Georgeson's Bill Fiske and Brigid Rosati are joined by 4 Latham & Watkins partners to discuss the following topics:
Preview of 2024 executive compensation matters

Compensation clawback rule implementation

Pay versus performance disclosure updates

New SEC disclosure requirements

ISS and Glass Lewis updates

Shareholder proposals and voting trends

Investor expectations heading into 2024

Investor voting decisions from the 2023 season
UK: Georgeson's Cas Sydorowitz is joining Hogan Lovells' ESG webinar titled "Corporate governance 2024" on 22 November
Join us for our analysis of the essential hot topics to consider in advance of your 2024 AGM. We will provide expert insight and commentary on the latest market trends, key activist campaigns and other important global developments which are relevant to boards and investors.
The health of the UK markets – the investor perspective

Voting trends in 2023 and our predictions for 2024

ESG activism – the past, present and future

Key regulatory changes on the horizon
Germany: Georgeson's Christian Papp will be presenting at Computershare's HV Management Seminar 2023 on 10 November
In addition to a review of the past AGM season, marked by the virtual AGM according to new legislation, participants can expect an outlook on the 2024 season. The speakers will illuminate and discuss practice-relevant developments from various perspectives. Among others, Prof. Dr. Christoph H. Seibt (Freshfields Bruckhaus Deringer) will present current case studies on the topic of "Activist Shareholder Management", Marc Tüngler (DSW) will look at the past and upcoming AGM season from a shareholder/investor perspective, and Christian Papp (Georgeson) will give an outlook on the behaviour of investors and proxy advisors on the topics of ESG.
UK: Georgeson is sponsoring the "FTSE ALL Share" category at the 2024 Non-Executive Director Awards - nominations close on 12 November
Do you know a Chair, SID or NED that deserves to be recognised at this year's Non-Executive Director Awards? The nominations for the 2024 Non-Executive Director Awards are open and we are a proud sponsor of the FTSE ALL Share category. Other categories include Equity Backed / Not-for-Profit/Public Service Organisation | Dame Alexander 'NED to Watch'. It's quick and easy to nominate, simply visit -
www.nedawards.co.uk/nominate
.
Italy: Georgeson's Lorenzo Casale and Francesco Surace presented at a Nedcommunity webinar on 24 October
In this webinar, we delved into Georgeson's analysis of the trends of annual shareholders' meetings in the nine major European markets. The focus of the webinar is on Italy, where half of the remuneration reports – among the companies in the FTSE MIB – were contested and in four cases the election of a director received more than 10% of unfavourable votes.
Spain: Georgeson hosted its European Conference on Economics, ESG, and Climate Change in conjunction with the Club de Excelencia en Sostenibilidad and the IE University
Georgeson's Domenic Brancati, Carlos Sáez, Daniele Vitale, and Claudia Morante spoke at the conference discussing public and business strategies regarding the Economy and Climate Change, with a special focus on climate management, sustainable products, Sustainable Finance, ESG investing and challenges for boards of directors. The report was covered by
Bolsamania
.
UK: Georgeson hosted a Women on Boards event on 10 October
Directors' Circle members were invited to join for Autumn drinks and an evening with Georgeson, specialists in shareholder advice and communications, proxy solicitation and corporate governance consulting. Nicholas Laugier, Business Development Director for Georgeson and Daniel Veazey, Corporate Governance Expert for Georgeson, shared their insights on the benefits and complexities of relationships with investors and stakeholders.
Investment & Pensions Europe reports that

Swiss asset management association to launch stewardship code with SSF

: "The Asset Management Association Switzerland (AMAS) will soon launch a Swiss Stewardship Code for asset owners, with the aim to promote active dialogue and exercise of shareholder rights in Switzerland, chief executive officer Adrian Schatzmann told IPE. AMAS also published a year ago the self-regulation for sustainable finance, a further effort to make Switzerland a leading international hub for sustainability. The Swiss Stewardship Code, which will be published in October together with Swiss Sustainable Finance, will serve as a guide to asset owners, as well as asset managers and other financial service providers."
Reuters reports that

EU energy chief urges China to commit to renewables target, methane pledge

: "The European Union's top energy official urged China to commit to renewable energy and methane reduction targets in talks in Beijing this week, but stopped short of calling on the Asian superpower to be more ambitious in cutting its carbon emissions. Kadri Simson held talks with China's National Energy Administration chief Zhang Jianhua in the first in-person EU-China energy talks since 2019. The meeting comes amid strained ties between the two trade partners, and just after Brussels angered Beijing by announcing a probe into Chinese subsidies for electric vehicles."

Pensions & Investments reports that

China, India face daunting challenge to grow retirement security amid demographic, cultural shifts

: "Retirement systems in China and India, home to the world's largest populations with around 1.4 billion people in each country, are still in nascent stages but are expected to grow as their economies expand and their demographics shift. In both countries, the first pension pillar — a state-sponsored pension system — has been seen as inadequate, and the second pillar — employer-sponsored retirement plans — is often insufficient in meeting people's rising post-retirement needs. A third pillar focused on building up individual, private retirement accounts is still in very early stages in both countries, but as the two economies grow, so will these retirement schemes, industry players said."
SCMP reports that

Hong Kong's ability to retain top ESG talent depends on making the city a hub for green tech and finance: Deloitte

: "Hong Kong needs to sharpen its competitive edge and strengthen its ecosystems for sustainable finance and green tech to retain the thousands of environmental, social and governance (ESG) experts it aims to attract through high salaries and immigration programmes, according to accounting firm Deloitte. Making Hong Kong into a true hub for green finance and tech would give the city a long-term edge over global peers, said Mohit Grover, lead partner for climate and sustainability services at Deloitte Hong Kong. 'That would mean that these people will be given opportunities that are world-leading, while some other jurisdictions are also providing [similar] sets of incentives,' he said."

SCMP reports that

Climate change: Hong Kong-listed companies at risk of failing to meet more stringent emissions-reporting rules, PwC says

: "Hong Kong-listed companies must step up their preparedness for more challenging climate-related reporting requirements set to be phased in starting next year, according to audit and consulting firm PwC. Only a quarter of 300 Hong Kong listed companies PwC studied voluntarily made any disclosures of their so-called scope 3 greenhouse-gas emissions – those attributable to their suppliers and customers – in their 2022 financial year reports on environment, social and governance (ESG) issues. Under a proposed rules change awaiting formal adoption by Hong Kong's bourse, beginning next year companies will need to at least state the upstream and downstream activities that give rise to scope 3 emissions. After two financial years, they will have to quantify such emissions."
The India Times reports

Almost 50% of Nifty 50 CEOs, MDs earn over Rs 20 crore a year

: "A study by Deloitte reveals that 46% of chief executives/managing directors at Nifty-50 companies earned over Rs 20 crore in FY23, compared to 27% five years ago. The study also found that half of the promoter-incumbents earned more than Rs 20 crore in FY23, compared to 33% in FY18. The study analysed 41 of the Nifty 50 companies and found that compensation to CEOs/MDs has grown 12% annually over the last five years."